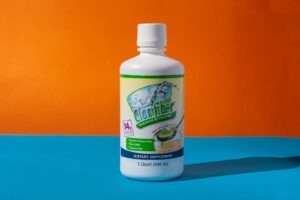 At Vibrant Nutraceuticals, we work tirelessly with a network of global supplemental innovators and our team of in-house scientists to develop only the best, highest-quality supplements on the market. Our mission is to create products that are just as effective as they are unique, and we want to help you understand the process and use behind each of our unique supplements.
This week, we're spotlighting Clarifiber – the no-grit fiber and prebiotic.
Gut Health, Enhanced
While most fiber products are designed to support your gut, Clarifiber is made up of a proprietary blend of ingredients that work together towards optimal gut health in a way that is unique from other products. Clarifiber increases probiotic levels in the large intestine, which in turn helps maintain healthy bowel movements. It works hard, so digestion doesn't have to be.
Versatile Intake 
One of the most notable benefits of Clarifiber is its ease of use. We designed Clarifiber to be flavorless so that it can be easily incorporated into your daily food and drink. Want to make a smoothie? Add Clarifiber. Eating eggs for breakfast? Clarifiber works there too. Its liquid form makes it simple to integrate into any meal or beverage.  
All Natural
While the benefits of Clarifiber are strong and significant, its ingredients were formulated to be kind to your body. Its list of raw ingredients is all-natural, non-GMO, and gluten-free; no matter your lifestyle or bodily needs, Clarifiber can work for you. Along with offering 100% natural fiber, one serving of this supplement provides 50% of the recommended daily fiber intake.
Now that you know more, try it for yourself. 
Vibrant Nutraceuticals is committed to providing holistic health to every member of your family. With a quality-driven approach and a community-first mentality, our product line is curated to meet any and every supplemental need. Learn more about Clarifiber and our other leading supplements on our products page.