Flex Fit Pro Performance Supplements Bundles
Supplements to Support Your Body Before, During, and After a Workout
Save 20% By Bundling
Taking care of your body before and after exercise is just as important as the exercise itself. The Flex Fit Pro Bundles from Vibrant Nutraceuticals include full servings of our Joint Muscle Plus, Silica Plus, and your choice of one of our delicious Flex Fit Whey Protein Isolate flavors to tend to your muscles, joints, and cartilage throughout all stages of activity and recovery.
Non GMO
Gluten Free
Cruelty Free
No Artificial Colors
What's Included?
Each Flex Fit Bundle allows you to save 20% on full-size servings of three of our best-selling performance products!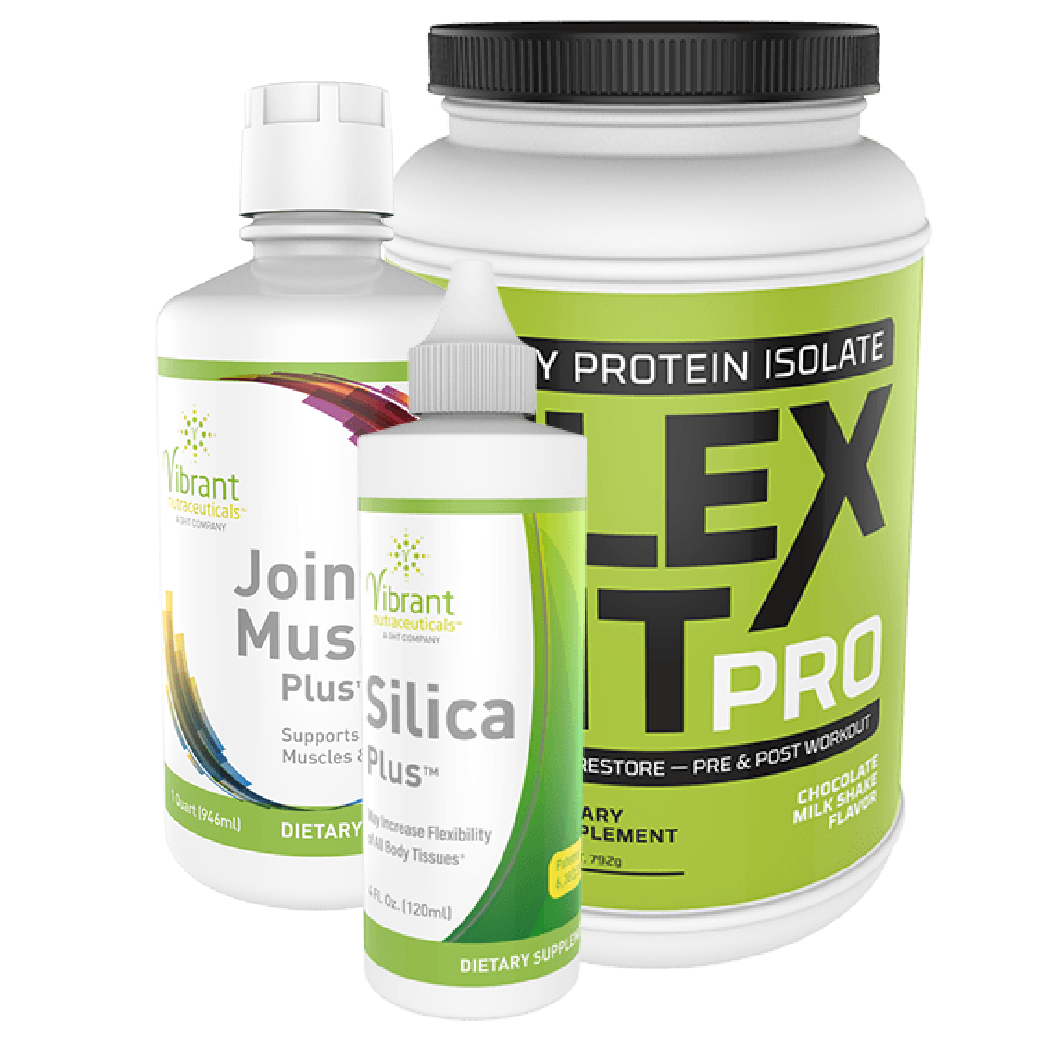 Flex Fit Pro
Whey Isolate Protein Available In Two Flavors
A low-fat, low-carb, protein source to support and maintain lean muscle growth and energy. Choose between flavors Chocolate Milkshake and Angel Food Cake (both sweetened with Stevia extract) to satisfy your dessert cravings while also supporting your health goals. 27g of protein, <2g carbs, and 1g fat per serving.
Joint Muscle Plus
Supports Healthy Joints, Muscles, & Ligaments
While Flex Fit Pro may help you grow lean and strong, Joint Muscle Plus includes essential ingredients such as MSM, collagen, glucosamine, chondroitin, and hyaluronic acid to help maintain healthy joints and muscles and ligament flexibility for the most effective workouts possible.
Silica Plus
Supports Connective Tissue, Joint Cartilage, & More
Silica is collagen's ally, targeting flexibility of connective tissue and joint cartilage. With natural enhancements like ionic minerals and Glucono Delta Lactone, Silica Plus is ready to support your body before, during, and after physical activity. Your hair, skin, and nails will thank you, too!
Choose Your Flavor: Chocolate Milkshake or Angel Food Cake?
Sweetened with Stevia leaf extract
Chocolate Milkshake Bundle
Why kick your chocolate cravings to the curb when you can get your fix with Flex Fit? This bundle's whey protein isolate takes on a classic flavor – a chocolate-lover's dream!
Angel Food Cake Bundle
Have your cake and drink it too! Angel Food Cake, that is. This "heavenly" whey protein isolate is a perfect sweet treat alone or as a base for your own smoothie customizations.