Summer is quickly approaching – it's time to bring out new self-care routines that keep us in prime condition for vacation photos! It's also a big time of year where many focus on building healthier habits and routines to ensure a happy and healthy summer. 
One of the best ways to invest in yourself and your health is to integrate supplements into your daily routine to get the nutrients you need. Vibrant Nutraceuticals has a wide selection of natural supplements to keep you supported all year long, but one of our favorite products is Silica Plus: the hair, skin, and nail support to kick-start your summer glow-up.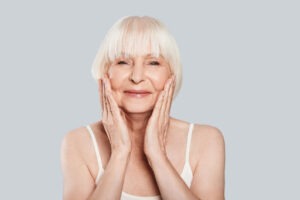 The Collagen Boost You Need For Summer
Silica is a naturally-occurring trace mineral that works to support collagen production. Collagen is one of the most important proteins that our bodies produce. It is responsible for providing structure to bones, skin, tendons, muscles, and ligaments and strengthening blood vessels, corneas, and teeth. While we do produce collagen naturally, if we aren't supplying our bodies with the building blocks of collagen – like silica– we won't have enough to support our bodies. 
That's why we recommend Silica Plus. It's a natural alternative to collagen supplements that actually supports natural collagen production.
How Does
Silica
Plus Support Heart Health?
Silica Plus provides strength and flexibility to connective tissue, joint cartilage, hair, skin, nails, and even blood vessels to support heart health. It's not your average supplement. Essentially, silica works to create the bonds between protein molecules that function to repair and regenerate cells. This means it can help keep blood vessels strong and support healthy heart function.  
Why Do We Need
Silica
on a Daily Basis?
Unlike collagen, our bodies don't produce silica naturally – it's mostly found in food and, of course, supplements. But, without it in our system, our hair would thin out and become frail, our nails would weaken and break, and our skin would become dry and lifeless. If you're feeling like you're not glowing like you want to this summer, check out Silica Plus. 
To learn more, check out this blog post about the benefits of Silica Plus!
Vibrant Nutraceuticals
Vibrant Nutraceuticals is committed to providing holistic health to every member of your family. With a quality-driven approach and a community-first mentality, our product line is curated to meet various supplemental needs. Learn more about our story and product lines.