At Vibrant Nutraceuticals, we work tirelessly with a network of global supplemental innovators and our team of in-house scientists to develop only the best, highest-quality supplements on the market. Our mission is to create products that are just as effective as they are unique, and we want to help you understand the process and use behind each of our unique supplements.
This week, we're spotlighting Silica Plus – a whole-body support solution.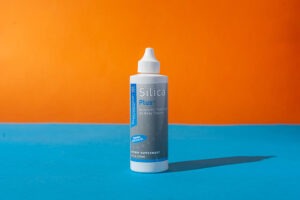 Whole Health Use
Looking for a one-stop-shop product for multiple bodily benefits? Silica Plus is a supplement for you. Its primary benefit is increased strength and flexibility of body connective tissues, but Silica Plus also offers support to joint cartilage, hair, skin, nails, and even blood vessels. From heart health to joint health, this product is a great choice. No matter your age or lifestyle, this product can benefit nearly everyone.  
Mineral Boosted
All of the benefits Silica Plus offers come from its base ingredient – Silica. This mineral is needed by the body on a daily basis, but it cannot be supplied by the body itself, making it an essential supplement for everyday use. Silica offers boosted support for the variety of bodily functions mentioned above, and supplementing it in your daily routine may make some significant improvements to your health. 
Easy and Quick
While the benefits of Silica Plus are complex and comprehensive, taking it is simple. Offered in a convenient liquid dropper, you can add it to your food or drink in the morning or simply drop it straight into your mouth. No matter your preferred method of use, Silica Plus offers the fastest and best bodily absorption, so it starts working for you right away. Enhanced with ionic materials, Silica can also offer enhanced mental alertness.
Now that you know more, try it for yourself. 
Vibrant Nutraceuticals is committed to providing holistic health to every member of your family. With a quality-driven approach and a community-first mentality, our product line is curated to meet any and every supplemental need. Learn more about Silica Plus and our other leading supplements on our products page.