If maintaining a daily vitamin routine is something that you prioritize, we at Vibrant Nutraceuticals believe you should add silica to the mix. Silica is essential in our body's production of collagen, but we don't produce silica on our own – it must be ingested via supplements or diet. So the question is: How often should I take silica?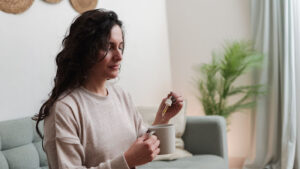 How Often Should I Take Silica?
Silica is one of the most common minerals on earth. We often associate it with things like glass, granite, and silicon, but we also need silica in our system to promote healthy collagen production. 
According to WebMD, "The Food and Drug Administration (FDA) recommends that you don't consume more than 10-30 grams, or 2% of your daily food intake (500-1,500 grams), of silica per day." 
Although silica is naturally-occuring, we don't produce any ourselves, so we have to be sure that we integrate silica-rich foods and a supplement into our lifestyle. In doing so, we are more likely to be able to support collagen production which strengthens essential parts of our bodies like bones, joints, nails, and hair.
How do I Integrate Silica Into My Diet?
Silica can be found all around us, but the tricky part can be eating enough of the silica-rich foods to truly make a significant impact on collagen production. 
Foods rich in silica include:
Green beans

Bananas

Lentils

Leafy Greens

Brown Rice
Realistically, it's not always possible to make sure we are getting enough silica each day from food alone. With so many benefits of silica, it's important to supplement what we can't get in our diet.
The Benefits of Silica Plus
Vibrant Nutraceuticals offers Silica Plus, a proprietary silica blend supplement, to help you get the silica you need everyday. Silica Plus may provide strength and flexibility to connective tissue, joint cartilage, hair, skin, nails, and even blood vessels to support a healthy heart.  
The bottle comes with an easy-use dropper so you can add the tasteless nutrients to your favorite drinks, soups, and any of your other favorite foods. Not to mention, each bottle comes with enough product to last three months!
Check it out and shop Silica Plus from our website here.
Vibrant Nutraceuticals
Vibrant Nutraceuticals is committed to providing holistic health to every member of your family. With a quality-driven approach and a community-first mentality, our product line is curated to meet any and every supplemental need. 
Learn more about our story and product lines.