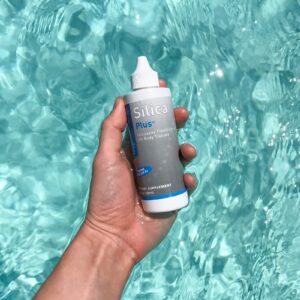 Whether you're gearing up for your next travel plans or working on your poolside glow, there are supplements you can take this summer to help you look and feel your best.
Here's a list of our favorite summer products:
Silica Plus | Look Good
Ready for your summertime glow-up? Silica Plus may boost your body's natural collagen production, the most abundant protein found in your body. By increasing your silica intake, your body is able to produce more collagen. Collagen works to:
Strengthen hair, nails, and bones

Promote healthier, plumper, and youthful-looking skin

Provide more elasticity and support to connective tissue like cartilage and tendons

Prevent fractures and reduces the risk of osteoporosis
We love this daily supplement because it gives us a summer glow from within, boosting our health on the inside and radiating our health on the outside!
Clarifiber | Feel Great
Don't you hate when you put on your bathing suit just to be met with an uncomfortable bloat? We have the perfect summer supplement for you.
Clarifiber is here to help keep your digestion running smoothly. This all-natural, no-grit fiber and prebiotic promotes a healthy gut, helps increase probiotic levels in the large intestine, and assists in maintaining healthy bowel movements.
One of the most notable benefits of Clarifiber is its ease of use. We designed Clarifiber to be flavorless so that it can be easily incorporated into your daily food and drink. Want to make a smoothie? Add Clarifiber. Eating eggs for breakfast? Clarifiber works there too. Its liquid form makes it simple to integrate into any meal or beverage.
Melatonin Gummies | Sleep Better
Have you ever noticed how you always get the best sleep after a day in the sun? Well, every night can feel like that with our Melatonin Gummies.
This highly effective sleep aid contains a robust 5mg of melatonin in each chamomile-flavored gummy to help you sleep better for longer periods of time. And don't let a sugar high interfere with quality sleep! Each Melatonin Gummy contains less than 1 gram of total sugar.
Interested in exploring more supplements from Vibrant Nutraceuticals? Check out our products here.
Vibrant Nutraceuticals is committed to providing holistic health to every member of your family. With a quality-driven approach and a community-first mentality, our product line is curated to meet any and every supplemental need. Learn more about our story and product lines.