Silica is a vital nutrient for collagen production that we should supplement daily since our bodies don't produce it naturally. But, how do you determine the best silica supplement? 
Here at Vibrant Nutraceuticals, Silica Plus is one of our top-selling supplements. It's effective and easy to incorporate into your daily vitamin routine.
The
Best Silica Supplement
from Vibrant Nutraceuticals
We should all be intentional about incorporating silica into our daily diet and vitamin routine. While there are foods with significant levels of silica, we typically can't get the optimal daily dose of silica from just leafy greens alone.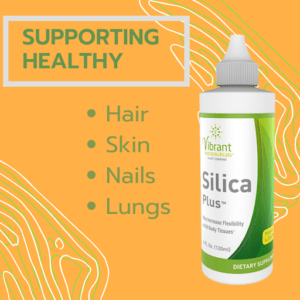 Each serving of Silica Plus provides a recommended daily amount to support healthy hair, skin, and nails, healthy heart function from helping to maintain strong blood vessel function, and flexibility for connective tissue and joint cartilage. All of these benefits are due to silica's essential role in collagen production. 
Daily Essential Mineral Boost 
Silica is one of the main factors in collagen production. Our bodies produce collagen on their own, but according to Harvard, our bodies gradually make less collagen as we age, and factors like excess sun exposure, smoking, excess alcohol, and lack of sleep and exercise can accelerate the loss of collagen we are able to produce. "With aging, collagen in the deep skin layers changes from a tightly organized network of fibers to an unorganized maze." 
To maintain healthy collagen levels as we age, a silica supplement like Silica Plus can come to the rescue. 
Silica Supplement with Easy Absorption
We crafted Silica plus with enhancements like ionic minerals and Glucono Delta Lactone to provide optimal bodily absorption. We also crafted the bottle with an easy-to-use dropper to ensure that you could measure out exactly how much you need each day. 
To learn more about the benefits of silica, check out our blog post.
Vibrant Nutraceuticals
Vibrant Nutraceuticals is committed to providing holistic health to every member of your family. With a quality-driven approach and a community-first mentality, our product line is curated to meet any and every supplemental need. 
Learn more about our story and product lines.