Every season brings its own unique mix of weather change, pollen, and viruses that can affect even the healthiest people. Your immune system works hard to fight off the unwanted germs, and sometimes, it needs a little help. Vibrant Nutraceuticals' PowerHI offers natural immune support through the use of grape seed extract and more.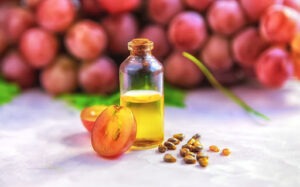 How the
Use of Grape Seed Extract
Supports Our Immune System
We consider grape seed extract to be the best kept secret in immune support. It's often used to promote wound healing but, according to WebMD, grape seed extract from red wine grapes are full of antioxidants called OPCs. 
When it comes to cold and flu season there are many factors that go into maintaining the healthy function of your immune system. While grape seed extract is beneficial, it can't do the work on its own. 
Immune Support for the Sneeziest Time of the Year
Fall and winter bring new strands of the common cold and the flu every year. There are preventative measures that you can take to protect your body, including giving your immune system support with good nutrition and supplementation. 
Eating a balanced diet will do wonders to maintain normal, healthy bodily function. Fresh fruits and vegetables contain some of the vital nutrients that you need. But, it's important to take additional measures to ensure you're providing those vitamins and minerals each and every day. A daily supplement like our Daily Vita Plus Multi Vitamin includes 13 essential vitamins to help guarantee that you're not missing out. 
Additionally, during the cold months especially, taking an immune booster like PowerHI alongside your daily multivitamin will give your system the additional support it needs to resist the cold and flu germs. 
Learn more about respiratory support against seasonal sniffles here. 
PowerHI from Vibrant Nutraceuticals
PowerHI is a powerhouse of natural, plant-based ingredients that work together to provide immune support with the following benefits:
It's built of an exclusive combination of herbs, antioxidants, and enzymes; including grape seed extract, aloe vera extract, and acai berry extract.

Easy-to-take capsules that support all elements of your healthy immune system. 

Use PowerHI long-term, whether you're healthy or under the weather to build up your defenses over time. 
To learn more about PowerHi, visit our website.
Vibrant Nutraceuticals 
At Vibrant Nutraceuticals, we incorporate passion in all of our products. Whether you're looking to improve your health, maintain your overall well-being, or increase your performance, we're dedicated to helping you be the healthiest version of yourself. Learn more about where we started and where we're going on our website.