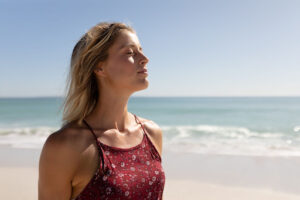 Seasonal sniffles can make it difficult to maintain healthy respiratory support throughout the year. Vibrant Nutraceuticals has developed a natural histamine blocker to support healthy histamine levels without adding harsh chemicals into your system. Clear Gum is a natural, tasty supplement that you can take anytime and anywhere! 
How Does Clear Gum Support Your Respiratory System?
Clear Gum is composed of one of the most effective natural histamine blockers: quail egg powder. Blended with zinc, quail egg powder has the ability to maintain regular histamine levels even when you're surrounded by seasonal irritants. 
In the 1970s, French physician Dr. G. Bruttmann noticed that quail egg farmers were not affected by seasonal irritation. Upon investigation, his theory that quail eggs were natural support for those with seasonal histamine sensitivity was confirmed. This has led to decades of research and the perfection of blends, like our EZClear™ proprietary common quail egg blend. You can learn more about Vibrant Nutraceuticals' quail egg powder here.
Clear Gum Is Perfect For The Whole Family
One of the most important things for us at Vibrant Nutraceuticals is that our supplements are made with safe, natural ingredients that are safe for your entire family. When we were developing Clear Gum, we wanted to ensure that what we put into the supplement would not only be effective but make it enjoyable for even your kids. So, we developed three different flavors: Green Apple, Cinnamon, and Mint. 
All three have our quail egg powder and zinc blend, along with a supporting cast of natural flavors and stevia extract to make it tasty! The gum is also gluten-free, cruelty-free, free of artificial colors, and non-GMO.
Long-Lasting Respiratory Support
It's important for immune-supporting supplements to not only act quickly but also last long enough for it to make a difference while you need them. Clear Gum can take effect in 15 minutes and last for up to two hours! 
The gums are packaged in a small enough bottle that you can take them with you no matter your schedule. You can take up to 6 doses a day, making it the perfect solution for maintaining healthy histamine levels throughout the day. You can even include it in your daily supplement routine all year long! 
Vibrant Nutraceuticals
Vibrant Nutraceuticals is committed to providing holistic health to every member of your family. With a quality-driven approach and a community-first mentality, our product line is curated to meet any and every supplemental need. 
Learn more about our story and product lines.