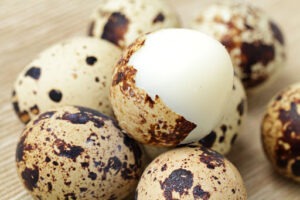 The main active ingredient in our Clear Gum is a proprietary blend of quail egg powder and zinc. We get a lot of questions about quail egg powder and how it can act as an effective natural histamine blocker. Let's break down the benefits of quail eggs and why Vibrant Nutraceuticals' Clear supplements can support people with seasonal histamine sensitivity. 
The History of Quail Egg Supplements
Quail egg powder seems like a very random ingredient to put in a supplement, but it's become known as one of the most effective additives in natural histamine blockers. 
As the story goes, in the 1970's, French physician Dr. G. Bruttmann noticed that quail egg farmers were not affected by seasonal irritation. Upon investigation, his theory that quail eggs were a natural support for those with seasonal histamine sensitivity was confirmed. This has led to decades of research and the perfection of blends like our EZClear™ proprietary common quail egg blend. 
While this is a relatively new concept in the US, several countries from around the world have put quail eggs to good use, from nutritious breakfasts to natural supplements. 
Meet Our Newest Support for Seasonal Histamine Sensitivity: Clear Gum!
We believe in the natural health benefits of quail eggs, so much so that we made it the primary active ingredient in Clear Gum: our all-natural histamine-blocking gum.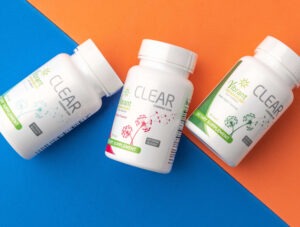 Clear Gum is an on-the-go supplement that you and your whole family can take as you need it. It's non-GMO, gluten-free, cruelty-free, and contains no artificial colors! It also comes in three different flavors: mint, green apple, and cinnamon. Each is flavored naturally and is sweetened with stevia. 
Your kids won't even realize they are taking a supplement as they enjoy the gum. Each serving takes about 15 minutes to take effect and may last for up to 2 hours! You can throw it in your purse, backpack, or briefcase and have access to a fast-acting natural histamine blocker all day long. 
Vibrant Nutraceuticals
Vibrant Nutraceuticals is committed to providing holistic health to every member of your family. With a quality-driven approach and a community-first mentality, our product line is curated to meet any and every supplemental need. Learn more about our story and product lines.