Are you looking for all-natural supplements that deliver results and improve your profit margins? At Natural Products Expo West 2023 – the leading trade show in the natural, organic, and healthy products industry – supplement retailers will have the opportunity to explore and sample innovative, all-natural products from Vibrant Nutraceuticals, meet our team, and discuss partnership opportunities.
Vibrant Nutraceuticals at
Natural Products Expo West 2023
We will be showcasing our products for retailers at Expo West this year, represented by our Parent Company, The GHT Companies. From March 9-11, we will be set up in Hall D of the Anaheim Convention Center at Booth #3472. 
While we have a broad range of products to choose from, we will be representing our Clear™️ chewable tablets and gums at Expo West as an example of The GHT Companies' access to exclusive raw ingredients.

Discover Clear™️ From Vibrant Nutraceuticals 
EZClear – a proprietary blend of quail egg powder and zinc – is one of the exclusive raw ingredient formulations that came from The GHT Companies' network of founding scientists. This all-natural histamine-blocking blend is found in our seasonal support supplement, Clear™️.
The Clear™️ product line includes chewable tablets and three delicious flavors of gum that work as a natural histamine blocker to support your system throughout sniffle season. 
Clear™️ products are:
Fast-acting: Helps maintain healthy histamine levels in less than 15 minutes.

Family-friendly: Kindergarteners, grandparents, and everyone in between can enjoy.

Ready when you are: Take one tablet or two pieces of gum at any time, anywhere. One dose generally lasts 2 hours.

Certified Gluten-Free

All-natural
Learn more about the benefits of quail egg powder for seasonal histamine sensitivity.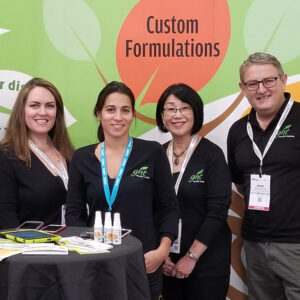 All-Natural Supplements for Retailers
By including Vibrant Nutraceutical's highly-vetted and innovative raw ingredient-based products, you can improve your profit margins and welcome a broader client base. When you visit Vibrant Nutraceuticals at Natural Products Expo West 2023, you will get more than just a few friendly faces and a flier. As a retailer, you have the opportunity to schedule a meeting with President & CEO, Jim Rex ahead of time to discuss opportunities to get all-natural supplements like Clear™️ gums and tablets into your stores.