Welcome to spring! It's a season for baseball, botanical gardens, park hoppers, and family hikes. As you and your family enjoy the outdoors, it's important to support your respiratory system so it can handle all of the seasonal irritants that come with spring. Histamine blockers may help you maintain normal respiratory function through seasonal sensitivities. They function to support your body through spring and summer, the two primary sniffle seasons.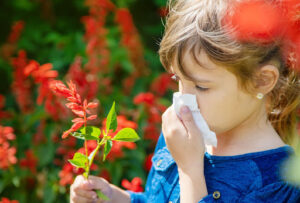 Vibrant Nutraceuticals developed Clear Gum™ – a natural histamine-blocking gum that's fast-acting and safe for the whole family. We have worked in conjunction with physician guidelines to develop this innovative to develop this innovate and fun way to address seasonal discomfort. 
How Do H1
Histamine Blockers
Support Your System? 
While natural histamine blockers do not provide a "cure" for seasonal irritants, they may help provide temporary relief.
 H1 histamine blockers are just what their name suggests; they block histamines from attaching to histamine receptors. Clear Gum™ works as an all-natural histamine blocker for "ah-chew"able tasty way to prepare for the great outdoors.

Best Histamine Blocker for Seasonal Support
When it comes to your children, we know that you care about the ingredients they consume. If you're looking for natural, clean ingredients, then Clear Gum™ is the perfect treat for your family. At Vibrant Nutraceuticals, each product is formulated from only the safest, highest-quality ingredients with the strictest standards.
The histamine blocker gum is made with EZClear™, our proprietary blend of zinc and quail egg powder. Common quail egg powder is one of nature's best-kept secrets. It was proven by the French physician, Dr. G. Bruttmann to be an effective, all-natural histamine blocker. 
It's important for immune-supporting supplements to not only act quickly but also last long enough to make a difference while you need them. Clear Gum™ can take effect in 15 minutes and last for up to two hours. 
You and your family can take up to 6 doses a day, making it the ideal solution for maintaining healthy histamine levels throughout the day. Include it in your daily supplement routine all year long for continued support no matter the season.  
Learn more about our best-tasing histamine blockers.
Clear Gum's™ Three Delicious Flavors 
If you're going to be chewing natural histamine blockers as gum, you want it to taste good. We developed three delicious flavors for you and your family to try: Green Apple, Cinnamon, and Mint. Each flavor is sweetened with stevia plant extract and is gluten-free, cruelty-free, free of artificial colors, and non-GMO. 
Shop all three flavors of Clear Gum™  on our website here.
Vibrant Nutraceuticals 
Vibrant Nutraceuticals is committed to providing holistic health to every member of your family. With a quality-driven approach and a community-first mentality, our product line is curated to meet any and every supplemental need.