Sniffle season is back with a vengeance and unfortunately, finding an effective natural histamine blocker, especially for kids, can be like finding a needle in a haystack. You can find yourself weeding through old wives' tales and "natural" supplements that have harmful chemicals hidden in the long list of ingredients. 
How to Maintain Healthy Histamine Levels
Mayo Clinic has a few suggestions when it comes to dealing with seasonal irritations. Some of them include: 
Avoid exposure to known seasonal triggers.

Be mindful of pollen counts. 

Keep indoor air clean.
While these ideas are possible, they may not be very practical, especially when kids are involved; for example, restricting your kids from outdoor activities.
Clear Gum 
Vibrant Nutraceuticals has developed a kid-friendly natural histamine blocker in gum form. Clear Gum is drug-free, gluten-free, cruelty-free, and safe for the whole family. It's made of our proven blend of quail egg powder and supporting ingredients to keep your children's histamine levels in a normal range, even during sniffle season.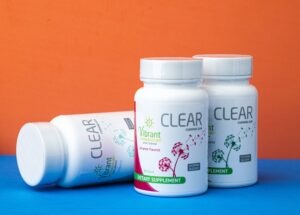 It comes in three delicious flavors: Mint, Green Apple, and Cinnamon for fun, tasty, and fast-acting support for up to two hours! 
How Does It Work?
Clear gum features the same active raw ingredient found in our Clear Chewable Tablets that so many of our customers love. The active ingredient, quail egg powder, has global recognition and developed rave reviews because of its scientifically-proven histamine-blocking properties.
Our founding scientist partner developed this product based on decades of historical research in the area of studying the benefits of quail eggs and worked to ensure that Clear's active ingredients are the best naturally-sourced support on the market. 
Give Clear Gum a try and see how it helps you and your family through Spring and beyond! 
Vibrant Nutraceuticals is committed to providing holistic health to every member of your family. With a quality-driven approach and a community-first mentality, our product line is curated to meet any and every supplemental need. Learn more about our story and product lines.